I have been a busy momma this morning getting my house in order and back to normal.
My oldest son has been a busy bee helping me clean without argument.
A friend of his from school is going to come and stay overnight here at our home. He has never had someone stay overnight so this is a wonderful first for him.
Plans for the night?
I am thinking about going to the store and picking up some pizza and chips for dinner.
After dinner??
The kids have James and the Giant Peach coming in the mail today or maybe some instant watch Netflix...
Movie Snacks???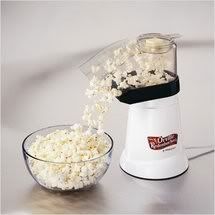 Oh yea you know it's awesome. Light fluffy and you get to watch it pop out of the machine into the bowl.
We might even have to bake us up some cookie goodness if I am not exhausted after my day of cleaning.
What do some of you do for fun when you have sleep overs at your house?